Eco-Friendly
One of our main missions at Earthfare is to ensure that the household ranges we sell are eco-friendly, and in instances where it's not possible or practical for products to be displayed and sold 'unpacked' – i.e. packaging-free – we endeavour to use only plant-based, lower-carbon or recycled packaging.
___________________________________
Some Of Our In-Store Eco-Friendly Products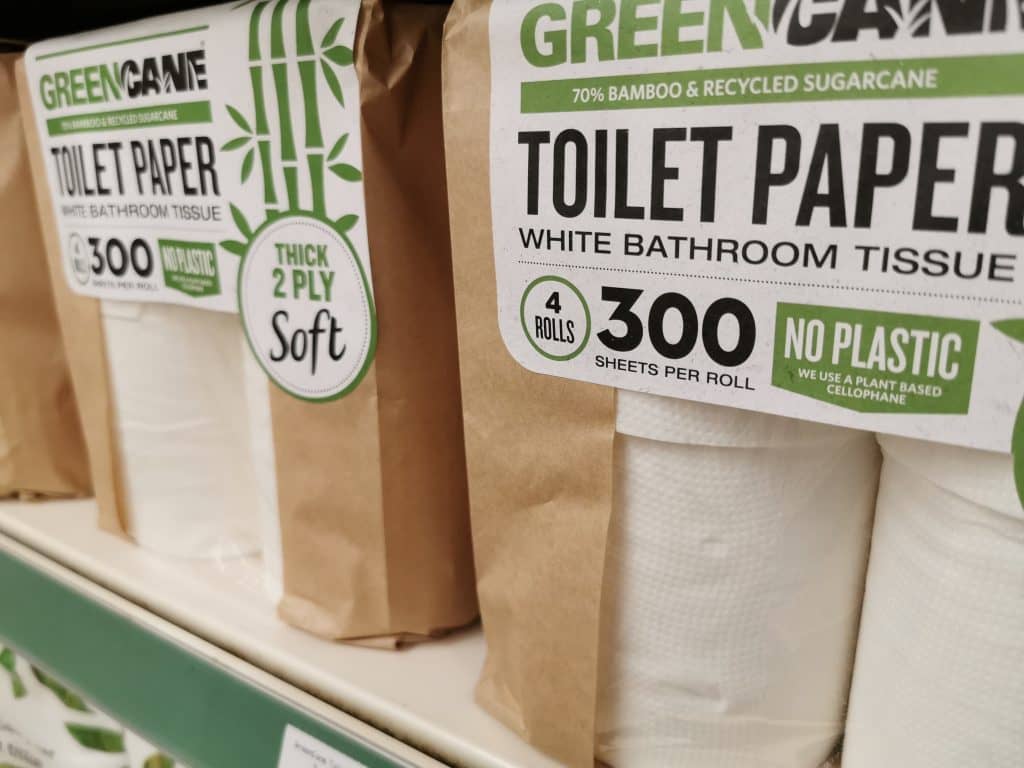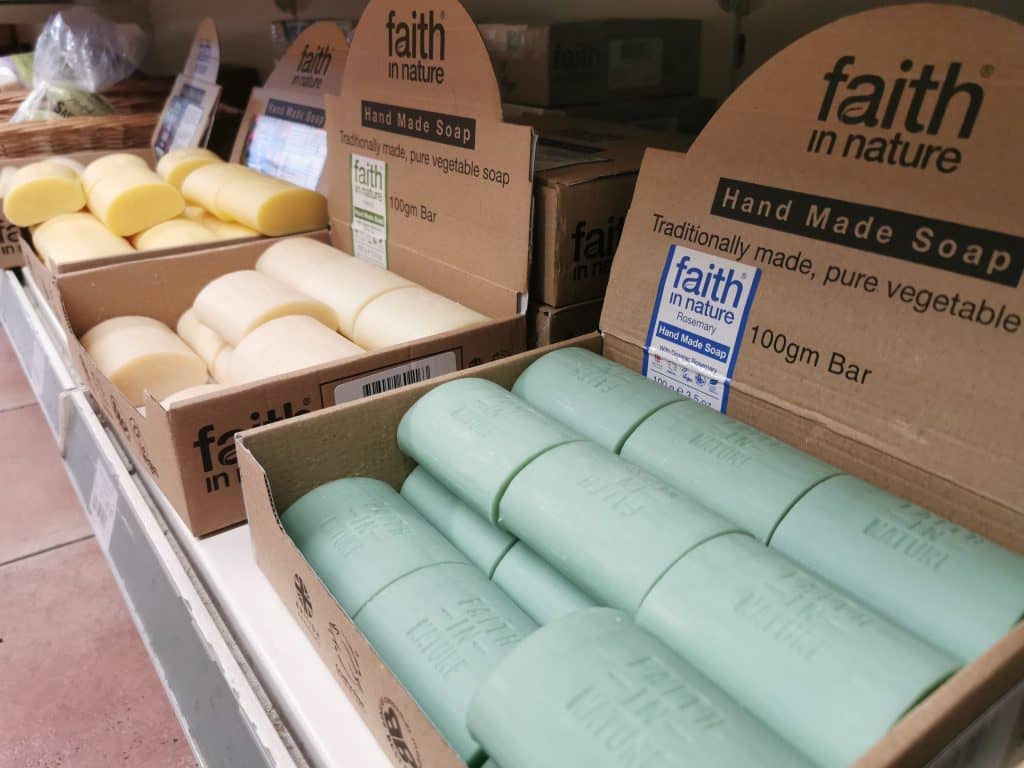 Some Of Our In-Store Eco-Friendly Ranges
Vegan Food Wraps
Vegan Food Wraps are a plant based vegan alternative to single use plastic, cling film and tin foil. The wraps are a natural, eco-friendly and traditional way to protect and keep food fresh.
They are soy and palm oil free and are made using custom designed 100% organic cotton which is GOTS (Global Organic Textile Standard) certified.
All of the wraps are handmade in the Cotswolds and come in 100% recycled packaging. The plant-based ingredients include jojoba oil**, pine resin, sumac wax*, sunflower wax*, rice bran wax* and hydrogenated castor oil*.
*GMO free and manufactured in the UK
**Organic
Why should you use Vegan Food Wraps?
1. Vegan: All the wraps are completely Vegan and all the ingredients come from the most sustainable sources possible.
2. Planet Friendly: The wraps were created in response to a growing demand for planet-friendly alternatives to single use plastic. The reusable sandwich wraps could potentially eliminate a household's use of cling film, tin foil and plastic sandwich bags.
3. Biodegradable: The wraps should last for up to a year – they can be cleaned easily and reused over and again. At the end of their life you can put them in the compost to decompose.
4. Easy to wash: Just clean your wraps with warm water and a tiny bit of washing up liquid
Loofco
LoofCo is a unique range of pads, brushes & accessories for washing-up, household cleaning & personal care.
All LoofCo products are made with sustainable plant fibres of the loofah plant and coconut: Loofah + Coconut = LoofCo!
Coconut and Loofah are both renewable raw materials that absorb CO2 when growing. Furthermore, only coconut fibres and husks left over from coconut food and oil production (which would otherwise be wasted or burnt) are used.
LoofCo farming practices are sustainable and carried out to the highest environmental standards.
LoofCo products are plastic-free, biodegradable, recyclable and offer an effective alternative to plastic scourers, brushes, exfoliators and sponges.
Indeed, all elements of LoofCo products are 100% compostable, biodegradable and vegan.
r.Cup
r.Cups are a new and innovative alternative to single-use plastic and aluminium cups, as well as other environmentally damaging 'disposables'.
r.Cup was first developed to help tackle the use of single-use plastics at live music events, and r.Cup CEO Michael Martin has since become know as the 'guru of music industry greening'.
The 'Universal r.Cup' is now more widely available, and we're proud to say you can now purchase your very own r.Cup here at Earthfare!
Bio-D
When Bio-D founder Michael Barwell discovered what chemicals were used in most household cleaning products, he vowed to produce a plant-based range that would do the job without causing harm to either person or planet. That's when Bio-D was born!
In the 1980s, Michael's job was to clean commercial ships using harsh chemicals, and he often had to wear a respiratory mask for protection.
When he realised that these same chemicals were used in everyday household cleaners, it prompted him to form the Bio-D range of naturally-derived products.
At Bio-D only affordable plant-based ingredients are used – that way customers are not forced to choose between planet and pocket!
All Bio-D products are made here in the UK and all ingredients are ethically and sustainably sourced.
Containers are made from 100% recycled materials across the range (made from used plastic bottles that might otherwise have gone to landfill) and can also be recycled after use.
Friendly Soap
Beautifully gentle and cruelty-free, all Friendly Soap ranges are free from animal products or by-products and they not tested on animals. The soaps are made using an ancient cold-process method, making them totally biodegradable.
And they're vegan too!
A million miles from conventional detergents, no harmful preservatives or foaming agents are used because, as Friendly Soap founders Rob and Geoff say, 'there's no real need for SLS or Parabens.'
A million miles from conventional detergents, no harmful preservatives or foaming agents are used because, as Friendly Soap founders Rob and Geoff say, 'there's no real need for SLS or Parabens.'
The silky-smooth lather produced by these soaps is all down to the careful ingredient choice and the cold-process method of making them.
And for extra variety – and to make sure there's a soap you'll fall in love with – the soaps are fragranced with essential oils, flowers, spices and herbs.
This gives each product its own special colour, scent and healing magic and, in the case of poppy seeds and hemp bran, the power to gently exfoliate.
Heavenly Organics
All the products in this beautiful and ethical skin-care range are made from all natural organic ingredients.
Ethics are at the core of Heavenly Organics, a company that not only uses natural, organic and vegan products, but also one that fully embraces the zero-waste and plastic-free revolution.
Heavenly Organics founder Mary-Anne started the company by making just a few simple chemical-free products and asking friends to try them out.
Fast forward to today and still true to the company's founding beliefs, there are now over 100 Heavenly Organics products to choose from.
And with the wellbeing of the planet firmly to the fore, all of the products come in either glass or aluminium containers, while there are also refills available in compostable bags.
OrganiCup
OrganiCup is the award-winning menstrual cup that replaces pads and tampons.
OrganiCup is easier, healthier and greener, month after month.
OrganiCup allows you to forget about your period both day and night, as it holds three tampons worth and can be worn for up to 12 hours.
OrganiCup is made of 100% soft medical-grade silicone that doesn't mess with your body. It's AllergyCertified, certified vegan (no animal testing) and complies to all relevant legislation.
No allergens
Wear for up to 12 hours
Registered with the Vegan Society
Lasts years, no constant waste
Made from 100% soft medical-grade silicone